I have enjoyed our beautiful springtime view across the road for the past 30 years
#rustic #rural_love
This view is at the Wausau house
The stream runs from the grotto, down a few waterfalls and into the pond.
Saint Francis** will be installed in a week or so.
Back view of the Wausau house we'll be moving to this (late) summer
Although the house itself is nice, my favorite part is the nearly .5 acres of backyard with the pond, stream, and gazebo - and lots of trees! This is probably the best possible transition to town after having lived in the country for decades. Thank you Lord for your generosity!
I just got the pond plants on Sunday and cleaned our little pond on Monday. The next time I'm in Wausau, if it's not snowing or raining, I'll clean out that pond too. If you look closely, you can see the little last waterfall that empties into the pond.


Join Terri and the Gang
for
She writes the questions;
we write the answers.
Plug them into your own blog post
and join in!
Link up at Terri's blog,
Your Friend From Florida
Thank you, Terri!
NATIONAL NYLON STOCKING DAY – May 15
(Who even knew this could be a day to celebrate in 2019?!!)
Our first great grandchild with her sweet parents
Little Penny was dedicated to the Lord on Mother's Day, and
her parents took vows 'to bring her up in the nurture and admonition of the Lord.'
It was a beautiful day with the family.
I'm going to be sprinkling family photos throughout.
1. Do you (
men don't have to answer
) ever wear stockings today?
As seldom as possible. Ugh. But occasionally.
Two of our grandsons at our home on the day before Mother's Day
'Grandma, come look! We found a whole garden of them!"
2. Terri can remember her mom wearing hose with the seam in the back. Do you have any memories of those? During the war, when stockings were scarce, women would draw a line on their legs to simulate wearing stockings! How far would you go to superficially fake something today?
I'm sure my mom must have worn stockings with a seam, but I was too busy riding horse, playing football, and climbing trees to notice. How far would I go to superficially fake something today? Well, let's just say that it's not going to be the real Saint Francis at the head of our garden stream in Wausau.
3. Women actually rioted after WWII because Dupont couldn't keep up with the demand for nylon stockings! Is there anything today you would riot for if the supply dried up (other than basic food and water needs)?
Hmm. Would I riot for coffee? But I guess that would be considered a basic food need anyway, so my answer would be NO.
He's still such a fun 'kid.'
4. Pantyhose were first called Panty Legs. I'm sure we all have worn pantyhose at one time or another (
again, men don't have to answer
). Do you still have a pair or three in a drawer? Do you wear them?
One pair. For emergencies. Like tying to the bed and using them to climb down the side of the house in case of fire.
My favorite photo of the whole day
The little brother had stayed with us for two (delightful) weeks, and I think his older brothers must have missed him. They couldn't keep their hands off him. It was hilarious! Anyway, this moment looked so Norman Rockwell-esque to me. I love it!
5. This is also

National Chocolate Chip Day

. Perhaps chocolate is something to riot for if we ran out? Joe's favorite cookie is chocolate chip. What is yours?
It's a three-way tie: chocolate chip with LOTS of chocolate chips, walnuts or pecans; molasses, or peanut butter made with chunky peanut butter. They're all good! Or maybe it's a lemon drop cookie with cream cheese frosting. Hmmm.
Waiting for the Swedish Kringler to cool.
He was at the kitchen counter, doing his schoolwork.
I told him to be careful licking *those* beaters
and don't turn the handle!!
6. Please share something with us about your week.
This week is starting out great. When I saw that the temperature early morning was 42 with a 'Real Feel' of 50, I knew it was going to be good.
Grandkids playing at the nearby park
on one of our trips to Wausau
They play so well together and I love seeing them having fun.
Some pics from the past two weeks. We already miss him.
Clockwise, from top left:
Painting 'Wausau Rocks' *
His introduction to the accordion
*Wausau Rocks involves painting rocks and hiding them various places around Wausau for people to find, hopefully take a photo of and upload to Facebook on the 'wausau rocks' page. We took a handful of painted rocks when we visited and hid them (in plain sight) around the town. We've yet to see them on Facebook, so either people are walking around with their eyes closed or they decided to keep them. That's okay too.
Smokey's favorite blanket is a soft, squishy white blanket
Tommy's favorite blanket is Smokey.
I hope the young woman who is interested in these two sweeties and is planning to visit us the second weekend of June, will be willing to take along their favorite sleeping boxes and favorite blankets as well. I don't suppose she would take their favorite chair. That might be asking too much.
+++++++++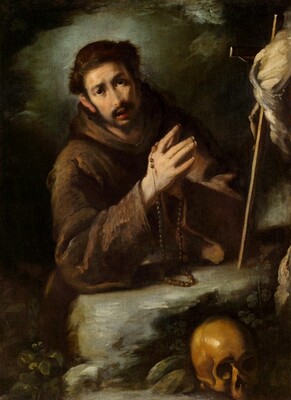 nga.gov
** Saint Francis
Lest we think that Saint Francis was a harmless animal lover and was created merely to decorate our backyards, you might find interesting this bit of information on Saint Francis, excerpted from The Pivotal Players (WordonFire.org):
"Saint Francis was born in 1182... The charming troubadour of God was also a fierce ascetic...practiced radical self-denial...represented a back to basics evangelicalism, a return to the radicality of the Gospel. This is what makes him a permanently relevant figure in the life of the Church... Francis was and is like a bell ringing, especially now in our hyper-secularized time, when we're just content with the things of this world, a flattened out sense of life. He is like a wake up call - that God is real, that we find our joy only in Him, that Christianity can be lived in this radical way... Wake up to the reality of God!...He was a radical follower of Jesus who wanted to go all the way with the Sermon on the Mount. That does make him a counter-cultural figure for sure. I do think we tend to domesticate him..."
So when you see Saint Francis standing in my backyard, please do not get him confused with Doctor Dolittle.
***
I will probably be closing my shops for the summer, since we've so much to get done. The plan now is to close for June, July, and August. But keep an eye on us because who knows.
Check out my natural, handcrafted vegan soap!
Buy any 5 or more, Get 1 FREE
Coconut & Lime
Natural, Handcrafted Vegan Soap
DELICIOUS summertime fragrance
Moisturizing
Incredible lather
All natural
Labeled and wrapped, ready for gifting
...and more! Check out all my handcrafted soaps at
HomemadeSoapNSuch
and at
Our ETSY Shop
Thanks for reading Cranberry Morning today, friends!
Join me on Instagram for daily photos (like way too many probably) @cranberrymorning